Electric Radiant Floor Heating Solutions
Heated Floor Options and Radiant Heat for Exterior Applications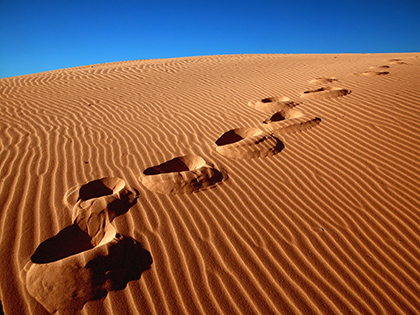 We have made it our mission to provide consumers with the best floor heating products and prices possible. The ComfortTile floor heating system, long considered the gold standard for radiant floor heating, is one of the most trusted, proven floor heating systems available. With its industry leading manufacturer warranty, durability and low-profile heat resistance cable, the ComfortTile heating system is a favorite among homeowners and professional builders alike.
ComfortTile heat cable is only about 1/8-inch in diameter, UL/CSA approved, and available on spools or pre-spaced in mats. The floor heating mats include heat cable that is pre-spaced on an adhesive-backed fiberglass mesh backing, designed to heat an area 24-inches wide. The convenient mats allow for simple roll-out installation without worrying about spacing the cable or securing it to strapping. The floor heating system is especially well suited for heating tile floors, but is also very effective for heating most other floor surfaces, including hardwood, laminates, and carpet, etc.
Warmzone specializes in a variety of premier electric floor heating and snow melting solutions. Our goal is to continually provide premier solutions that are not brand specific, and thereby give customers the very best custom solution for heating floors, driveways and roofs. This philosophy ensures that consumers have the very best options to choose from when deciding on a radiant heat solution. We strive to exceed your expectations and offer the lowest prices possible.
Electric Floor Heating Options
ComfortTile Floor Heating Systems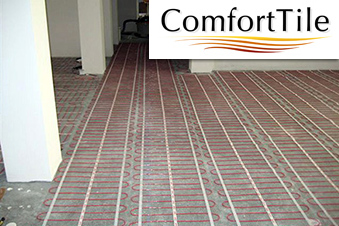 ComfortTile heat cable is pre-terminated for use with 120 and 240V and has a diameter of just 1/8 of an inch, resulting in very little floor buildup. CT heated floors are proven systems that come complete with a GFCI protected thermostat and strapping (when purchased on spools) to secure and properly space the heating cable. A selection of the industry's most advanced programmable and non-programmable thermostats is available to control the floor heating system. Each room (or zone) can be controlled individually by its own thermostat, making these systems extremely effective and energy efficient.
All sizes and adjustments of cable spacing and coverage can be made on site. The floor warming mats feature cable that is pre-spaced and secured to a flexible adhesive-backed fiberglass mesh that is available in various lengths. The twin conductor heating cable is matched with premium materials, enabling the ComfortTile heat cable to provide superior floor heating performance and fast response times for a wide variety of floor surfaces.
Prodeso® Membrane System with ComfortTile Heat Cable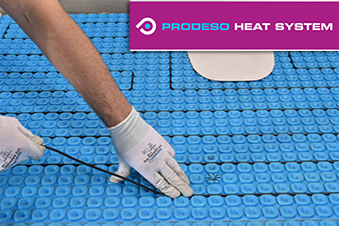 The Prodeso membrane floor heating system combines the benefit of an underlayment membrane with the comfort and convenience of electrical floor heating. This innovative system provides an uncoupling and waterproofing system for heating floors without movement or expansion joints in the screed. The membrane comes in rolls that can be laid out directly over the subfloor prior to the flooring surface being installed.
The flexible membrane can be quickly laid out, facilitating short installation times. After the membrane is secured to the subfloor, the ComfortTile cable is placed in the channels of the membrane. The tile or other type of floor surface can then be immediately installed over the membrane and heat cable. The membrane is versatile and can be used to heat a wide variety of floor surfaces. And the Prodeso system is safe under all conditions and weather (for outdoor applications). It even waterproofs the substrate in the case of overlaying on cracked or imperfectly cured floors with a risk of vapor stress. The underlayment membrane, heat cable and flooring can be installed the same day, and the floor buildup slightly less than 1/4 inch.
FloorHeat STEP Low-voltage Floor Heating System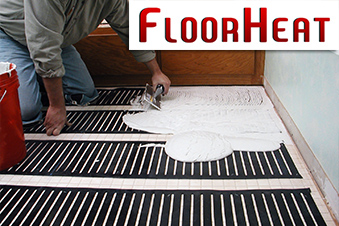 Ideally suited for heating hardwood floors, Warmzone's FloorHeat STEP is an advanced radiant heat system featuring a thin self-regulating, semi-conductive polyethylene heating element that can be installed directly underneath hardwood floors. Available in rolls 9 and 12-inches wide, the flexible heating element can be used to provide radiant floor heat for a variety of floor surfaces, but is most recommended for hardwood or laminates.
Because the FloorHeat STEP radiant heating system uses a self-regulating, low-voltage heating element, the hardwood will not discolor or get damaged due to excessive heat expansion and contraction. The self-regulating properties prevent the heating element from overheating. When the ambient temperature rises, the electrical resistance increases and the consumption of electricity decreases, providing safety and energy efficiency. Additionally, unlike hydronic floor heating systems no glycol is needed during the installation, eliminating potential moisture warping/damage to the hardwood. The flexible heating element can be cut to the desired length and field-wired on site and easily secured to the subfloor with adhesive or staples, facilitating quick and easy installation.
Exterior Radiant Heat Applications
In addition to heating floors and basements, radiant heat systems are also very effective for melting snow and ice from driveways, disability ramps, parking ramps, loading docks, roofs, and other outdoor applications. The most popular application is that of heated driveways. Electric radiant heat has proven to be very effective and affordable when it comes to keeping driveways and sidewalks free of slick snow and ice. These radiant heat systems are fully automated, and operate only when needed, making them reliable and energy efficient.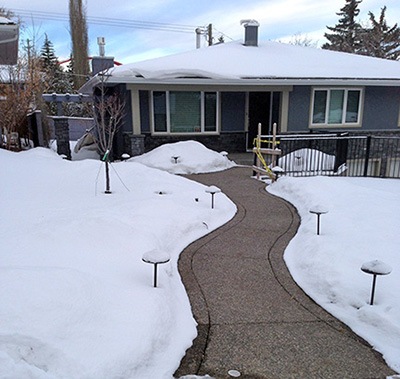 Radiant snow melting systems are becoming increasingly popular, and it's no great mystery why. Driveway heating systems utilize renewable energy, operate silently and cleanly, are maintenance free and fully automated. What's not to love? Homeowners and business owners alike are enjoying the many benefits of radiant snow melting systems. In addition to convenience and added safety at home, your liability at your business will also decrease as your walkways and steps are automatically cleared of snow and ice.
Radiant snow melting systems are fully automated, and only operate when conditions warrant. These advanced snow melting systems utilize an activation device (snow sensor) that detects the temperature and moisture to trigger the system when conditions warrant. The system continues to operate for a short time after the storm to ensure that the driveway surface is dried, preventing dangerous black ice from forming. You can have peace of mind knowing that wherever you have installed a Warmzone snowmelt system, slippery and dangerous ice will be a thing of the past. Warmzone custom designs radiant heat systems and provides unparalleled customer services, including free expert installation training and technical support. Our experts are available to you during the installation to ensure that your heated driveway or walkway is installed correctly and performs as advertised.
To learn more about the floor heating and snow melting options, visit Warmzone.com or call a friendly radiant heat expert today, at 888-488-9276.