All About Electric Heated Floors
Information and Options for Heating your Floors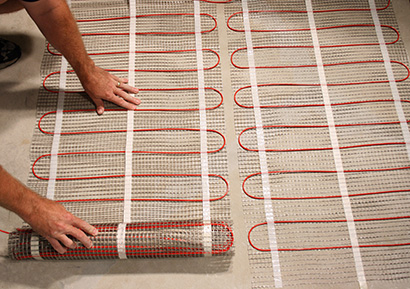 Radiant heated floors provide an affordable, efficient way to heat your home. By heating the home from the floor up, radiant heat provides a luxurious, and energy-efficient warmth. The radiant heat system operates silently, cleanly, and is maintenance free. And with radiant heat, there is no need for heating ducts and vents, eliminating blowers that toss dust and allergens throughout the house. When it comes to home improvement projects, installing radiant heated floors are an economical way to update your home and boost your equity.
Two types of floor heating technologies are available: electric systems and hydronic systems. Both systems rely on a network of heating elements installed beneath the surface of the floor, controlled by a thermostat that coordinates with sensors to keep the floors at optimum temperature. Sensors are also available that sense air temperature as well as floor temperature, depending on your system.
Electric heated floors most commonly utilize thin, electric resistance heating cable. Hydronic floor heating systems require a mechanical room that houses a boiler, pumps, valves and manifold. The boiler heats specially treated water that is then pumped through plastic PEX tubing installed underneath the floor's surface. Unlike some other hydronic systems, Warmzone uses the 'M-module', which makes the design and installation of hydronic floor heating systems less complex, and eliminates much of the wasted space typical with hydronic systems. And Warmzone boilers are among the best in class.
Generally, electric floor heating systems are the most flexible and practical choice for the majority of projects - especially for small and custom shaped rooms. Because hydronic radiant heat systems are more complex, the initial installation can be costly. However, for large floor heating jobs, a hydronic heat system can have a lower operational cost than its electric counterpart because of its ability to operate on natural gas, or perhaps another source that is cheaper than the local power utility rates. But electric radiant heat is far less expensive to install, more easily customizable and requires no maintenance.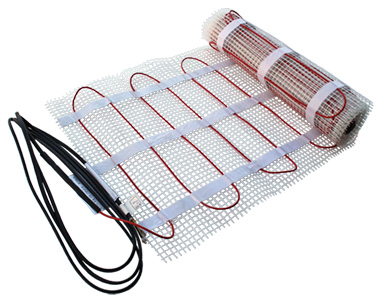 How do Electric Floor Heating Systems Work?
Electric radiant heated floor systems rely on a heating element (typically electric resistance cable) that is installed under the floor's surface. The most common system - ComfortTile - features thin heat cable that is available on spools or pre-spaced in mats with an adhesive-backed mesh backing. The mats can be easily rolled out for quick installation, greatly reducing installation time. The mats feature a single point connection, further simplifying the installation process. The cold lead from the mat is then wired to a thermostat to control the system. Another advantage of radiant heat is that each room can be operated independently, thereby eliminating wasted energy and minimizing your heating costs.
Designed to Heat all Types of Floors
Radiant heat systems can be used to heat all types of flooring, including ceramic tile, hardwood, laminates, marble and more. For heating tile floors, ComfortTile floor heating cable or mats is the most recommended solution. This trusted, versatile heat cable is the most popular floor heating system for a wide variety of floor surfaces. The heat cable is easily installed directly under tile or natural stone to provide comfortable, even floor warmth in your bathroom, kitchen, entryway, or other hard-surfaced areas. The floor heating mats are compatible with all standard sub-flooring materials, and its low 1/8- to 3/16-inch (3 mm) profile, also make ComfortTile heat cable ideal for renovations.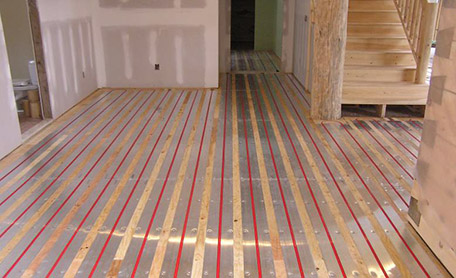 ComfortTile can also be combined with the Prodeso® floor heating membrane. Prodeso is an innovative uncoupling and waterproofing system for heating floors and other surfaces without movement or expansion joints in the screed. The membranes come in rolls and are easy to install. In-Slab heat cable is also available to install directly into concrete slabs.
A variety of other floor heating systems are available from Warmzone. Paper-thin floor heating elements called FilmHeat can be installed to heat a variety of floor types, and can even be installed in the floor joists (from below) to heat existing floors.
Several other innovative floor heating solutions are available. Call Warmzone to learn more, or visit Warmzone's floor heating system overviews web page. Warmzone can custom design the ideal solution to meet your heating needs as well as your budget. Call 888.488.9276 for more information.